Description
PicoScope 9341-20 Kit, 4-Channel, 16 Bit, 20 GHz Sampling Oscilloscope
Sampling oscillloscope kit for signal integrity measurements and characterisation of  RF components, SERDES devices, cables, PCBs, and connectors.
4 input channels
20GHz bandwidth, 17.5ps transition time
0.064ps time interval resolution, jitter < 2.0ps RMS + 20ppm delay
16-bit resolution and < 2.0mV RMS noise
2.5GHz trigger bandwidth or 14GHz pre-scaled trigger bandwidth
Industry-leading effective sampling rate 15TS/s, trace length up to 32kS
Integral signal generator: Pulse, PRBS NRZ, PRBS RZ, 500MHz clock, Meander, Trigger out
Eye diagram, eye line, histograms and mask test on NRZ and RZ serial data
PicoSampleTM 3 software for Windows XP (SP2)/Vista/7/8 16 or 32 bit with Active X control interface
For further details please download:
Small enough to be applied directly to the device under test, or close by, Pico Sampling Oscilloscopes are extremely high-performance and cost-effective measuring instruments for high-speed digital, communications, RF and microwave applications.
Sampling Oscilloscopes achieve better bandwidth and timing resolution than their traditional oscilloscope counterparts. They do this by sampling the signal more slowly, but right at the input connector. A sampling oscilloscope builds a waveform display as the input signal repeats and is not suited to single-shot capture applications. The true power of a sampling oscilloscope is realised when the signals to be measured have a repeating or cyclic pattern, or a steady data rate.
Sampling Oscilloscopes typically have high resolution, an input impedance of  50 Ohm and a single gain range. Active probes and external attenuators are added to achieve high impedance measurement and wider dynamic range.
Big Performance from Little Packages
Trigger rate to 14 GHz
Timing resolution down to 0.064 ps
Fastest available waveform builds!
With the fastest available sampling rate, Pico sampled waveforms and persistence displays are captured three times faster than competing sampling oscilloscopes, which are often bulky and three times the price.
With their powerful and unique trigger, hold-off and acquisition features, Pico samplers can lock to repeating signal features with minimal jitter. All models have trigger pre-scalers (frequency dividers) to allow triggering at up to 14 GHz, while the comprehensive acquisition modes, trigger modes and timebase ranges can display frequency below 100 Hz through to an effective sampling rate of 15 TS/s!

 PicoScope 9300 Models Compared:
PicoScope Model

9301

9302

9311

9312

9321

9341

2 x 20GHz electrical inputs

x

x

x

x

x

4 x 20GHz electrical inputs

x

Signal generator output

x

x

x

x

x

x

Diff. TDR/TDT capability, 40ps

x

Diff. TDR/TDT capability, 60ps

x

9040 ext. TDR/TDT positive pulse head

x

9041 ext. TDR/TDT negative pulse head

x

9,5GHz optical-electrical converter

x

Clock recovery trigger (11,3Gb/s)

x

x

Pattern sync trigger

x

x

x

x

x

x

USB port

x

x

x

x

x

x

LAN port

x

x

x

x

x

x
Powerful, Intuitive, Uncluttered Software
Flexible control-menu user interface
Click and drag on display to zoom
Informative colour density profiling
Histograms and numeric statistics
Pico's PicoSampleTM software for Windows is included, presenting a user-configurable, intuitive interface on Windows XP, 7 or 8 platforms and all supported display resolutions.
Comprehensive controls are presented in easy-access menus either side of the trace display area. You can select the controls you need, and hide the rest to reduce clutter.
Multiple trace windows support colour or density profiling, vertical or horizontal histograms and 138 pre-defined trace, eye and statistical measurements; up to ten tabulated simultaneously.
167 standard serial data communications masks are included with user margin, editing and custom mask compilation.
61 trace math functions can be applied using buttons or a formula editor.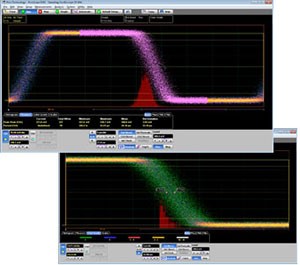 The PicoScope 9341 Kit contains:
PicoScope 9341 sampling oscilloscope
DI100    PicoSampleTM 3 software
DO134  Quick Start Guide
PS010   Power supply 12VDC @ 3.5A, universal input
MI106    USB 2.0 cable, 1.8m
TA168    SMA/PC3.5/2.92 wrench
MI272    Storage and carry case
TA170    2 x connector saver adaptors, 18GHz, 50Ohm, SMA
TA076    LAN cable, 1m
Optional accessory:
TA061    1.5GHz, 50Ohm passive probe, x10, SMA
Ratings